Posts tagged
Elections
0
The Greek elections are Sunday June 17th and the results will determine if the Greeks want to stay in the EuroZone (keeping the Euro currency) or leave and return to printing their own currency the Drachma.  The outcome will have huge impacts on the Greek economy and the world economy, as many point out, if Greece leaves the Euro it will have huge ripple effects on other European countries as well as the United States.  The issue is deep and complex so I wont go into more detail. However I am going to use the tarot to see what we can gather as an outcome this sunday.
I am using a Yes/No method of answering the main question of 'Will the Greeks leave the EuroZone?".    
Odd numbered and court cards are "NO" and even/Majors are "Yes".  As we see here we have 4 Odd cards and 1 even card. The answer leans heavily to NO, the Greeks will vote to stay in the EuroZone. By looking at these cards, the 5 of Cups and 5 of Pentacles shows that the Greek people worry about the negative possibilities of leaving the Euro, which by these cards would indicate loss, regret, poverty, misfortune and illness.  While the Knights are surrounding the 5 of Pentacles, they may feel they are being influenced on an emotional level to react impulsively, to vote No.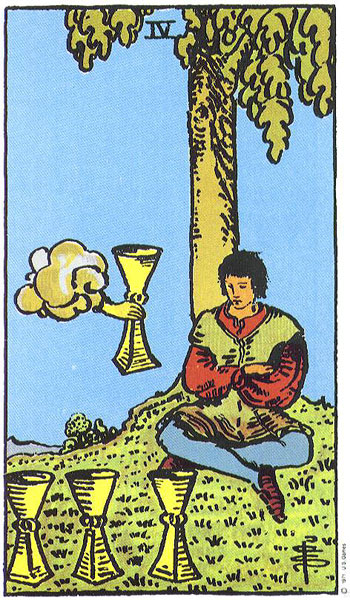 Looking deeper into the issue, I asked "What do the Greek people want in terms of this economic crisis? I pulled the 4 of Cups, to me in the situation, they are looking for another option. However I feel that they want someone else to offer the issue, magically out of the air much like how the cup appears out of the clouds. The Greek people are too apathetic to fix it themselves, they probably feel that someone else should fix it or at least come up with an idea.
The outcome.
The Greeks voted and the New Democracy party won the majority of the votes. This party wants to remain within the Eurozone and keep the Euro currency. My prediction was correct.
http://www.huffingtonpost.com/2012/06/17/greek-election-results-new-democracy-wins_n_1603971.html